26.03.2018
100 ATIS installations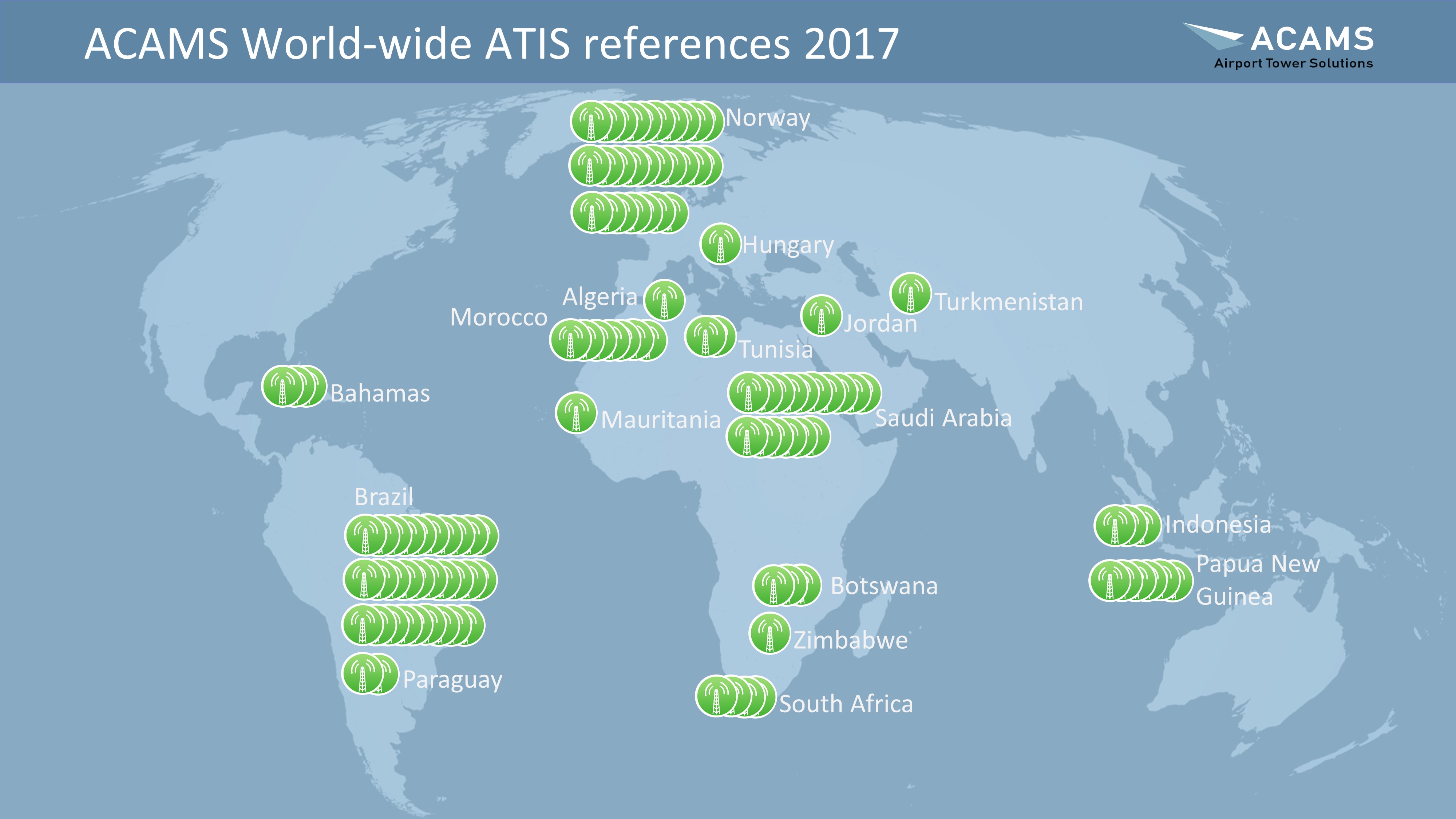 ACAMS has supplied more than 100 ATIS installations world-wide.
ACAMS is a prime supplier of ATIS solutions to the world's busiest airports. Last year (2017), an important milestone was met, with over 100 installations world-wide. Many of the world's largest international airports, such as Rio de Janeiro, Sao Paulo, Budapest and Bergen rely on ATIS services from ACAMS.
ATIS solutions have been provided to these airports since the first ATIS installation was completed in Norway in 2002. Over the years, ATIS solutions have been supplied directly to end users, as sub-supplies to system integrators and in partnership with leading MET suppliers such as Vaisala.
Systems have been supplied as stand-alone ATIS solutions, D-ATIS, with VOLMET (D-VOLMET) and as part of ACAMS' integrated tower solutions, I-TWR.
ACAMS software and hardware solutions are based on COTS, making it easy to customize the product to small or large airports or military airfields. ACAMS range of ATIS solutions includes single PC solution to fully redundant multi-workstation systems including message handling and management systems for country-wide Datalink ATIS management. ACAMS ATIS features include:
Full Datalink compliance (D-ATIS – D-VOLMET)
Dualized architecture available
Multiple operator terminals
Automatic data import from METAR messages
Automatic data import from meteorological sensors
Analogue and digital outputs
The ACAMS ATIS may also be supplied as an integral module of a comprehensive ACAMS integrated tower system.
Inquiries
Please contact ACAMS Airport Tower Solutions by filling in your details below. We look forward to receiving your inquiry.