Products and systems
ACAMS designs, delivers, installs and commissions systems for integrated tower operations. Solutions range from turn-key supply of ATC tower systems and equipment to cost effective individual sub-systems, and from large towers at international hubs to small, regional towers. Solutions can be scaled to suit the functional and capacity requirements of any civil or military tower. ACAMS offer: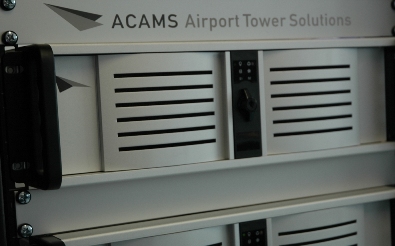 ACAMS systems are made up of COTS components with the main processing being performed by high reliability, maintenance friendly, rack servers. Industrial IP based components are used to interface to the various external systems. The components are interconnected using a dualised Ethernet network providing a fault tolerant architecture.
ACAMS client monitors are based on COTS equipment allowing the use of the latest state of the art monitors thereby providing the best Human Machine Interface.
The ACAMS software is implemented using a modular and flexible architecture which allows the HMI to be tailored to an individual customer's requirement.
Project Delivery
ACAMS secures problem-free and effective project management, delivery and installation through:
Effective deployment of project management; 
ACAMS applies combined project managers / deployment engineers for optimal customer contact and project knowledge
Cost effective adaptability; 
Systems are configurable for wide system flexibility 
Use of local technical infrastructure installation resources
 Read more about project delivery..
Quality
ACAMS ensures high quality in all processes of development and delivery. Key features of ACAMS quality standards:
ISO 9001:2015 certified
Norwegian CAA regulatory authority endorsement  
EuroControl Safety Regulatory Requirement (ESARR)
ED 109, Safety Assessment Standards
Air Navigation System Safety Assessment Methodology (ANSSAM)
Meets all ICAO standards
ACAMS is part of the ATM Norway Safety Network initiative
Information security
ACAMS complies to information security standards, ensuring professional handling to safeguard data from our customers and partners:
Support
The ACAMS support philosophy is to offer a comprehensive range of support services that can be tailored to suit each individual customer's needs.
ACAMS' remote support and fault correction ensures support and maintenance personnel are available when needed during the system lifetime.
Basics support services are included in a standard support package ensuring that expert help is readily available via telephone and remote network connection, solving problems quickly and efficiently.
Extended support options are available in order to provide the customer with additional services as may be required depending on the maintenance concept preferred by the customer.
Aircraft turnaround
Effective and predictable turnaround processes are crucial to airport safety, efficiency and capacity. The tower is a hub in these processes. Improving the tower processes may in many cases subsitute or significantly delay apparently needed larges-scale infrastructore investments.
Inquiries
Please contact ACAMS Airport Tower Solutions by filling in your details below. We look forward to receiving your inquiry.