20.04.2022
ACAMS I-TWR solutions to Greenland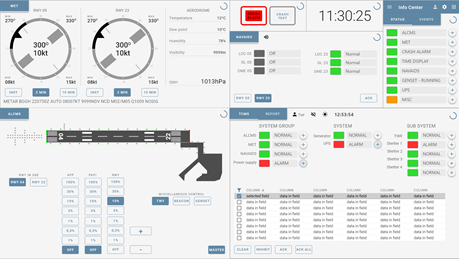 ACAMS signs contract to supply 2 Integrated Tower Solutions (I-TWR) to Greenland with options for a third system
ACAMS is pleased to announce a contract to supply integrated tower solutions (I-TWR) to Greenland.
To support economic growth and increasing tourism in Greenland, the Government of Greenland has decided to expand the existing airports. The existing runways in the west of Greenland will be extended from 950 to 2,220 meters in Nuuk and from 845 to 2,200 meters in Ilulissat. The extension means that the airports will be able to take larger aircrafts such as the Airbus A330 with up to 300 passengers. The plan also includes a new domestic airport with a 1,500 meter runway in Qaqortoq in the south of Greenland.
The ACAMS I-TRW systems will be installed at Nuuk Airport and Ilulissat Airport, with an option for an additional system at Qaqortoq Airport.
The solution will integrate the following systems into a single, uniform I-TWR interface:
MET System
Master Clock
COMM. System (VCCS, Radios and Recorder)
Navaids RCSUs (ILS Status)
ILS Interlock/Rotating Beacon
Auxiliary Systems (UPS, etc.)
Crash/Disaster Alarm (Option)
CCRs/Apron Flood Light/Auxiliary Systems
Generator
Shelters auxiliaries/SFL
The servers and clients are interconnected over dual redundant LAN connections. All locations will be linked through the Airport dual fiber-optic ring. Airport LAN users may access the system also with web client interface.
The I-TWR systems will be provided to end user Kalaallit Airports in cooperation with COMSA Industrial SLU, Spain.
Inquiries
Please contact ACAMS Airport Tower Solutions by filling in your details below. We look forward to receiving your inquiry.