The ACAMS product is a computer system providing an integrated and homogenous solution to monitoring, control and display requirements of an airport tower.
The ACAMS product is designed around a fault tolerant and modular architecture which can be scaled to suit the functional and capacity requirements of any civil or military tower.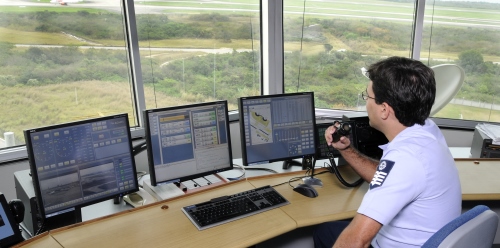 ACAMS takes signals from the related subsystem and provides the associated information (e.g. wind direction/speed etc.) in a user-friendly way on a touch-input monitor. Control of the related sub-system (e.g. RWY lights on/off) can be carried out by means of touch input directly on the monitor screen or by mouse/keyboard
The I-Tower solution:
… collects
… extracts
… displays
… distributes
… decision support information to the Air Traffic Control Operator (ATCO).
The ACAMS system is made up of COTS components with the main processing being performed by high reliability maintenance friendly rack servers.
Industrial IP-based components are used to interface to the various external systems. The components are interconnected using a dualised Ethernet network providing a fault tolerant architecture.
ACAMS client monitors are based on COTS equipment allowing the use of the latest state of the art monitors thereby providing the best Human Machine Interface.
The ACAMS software is implemented using a modular and flexible architecture which allows the HMI to be tailored to an individual customer's requirement. Step-wise implementation ensures continuous TWR operations without interruptions.
Features of the I-TWR solution
Uniform "look and feel" across different functions and systems
… applying optimised HMI ergonomics
… instead of different displays from different vendors
Compact Human-Machine-Interface covering all sub-systems
… instead of 1 screen for each sub-system provider
Real-time information at your finger tips
… instead of "all" functions open at all times on all screens
Continuous logging
… providing real time capture of tower events
Cost effective and flexible adaption
… enabling customer specific needs and preferences
 Benefits of the ACAMS I-TWR solution
Increased ATCOs' effectiveness and productivity
… due to complex decision making with less effort
Increased safety in critical moments
… due to better critical information available at the right time
Increased safety development process
… due to documentation/reconstruction of tower events
Enhanced ATCOs' work environment quality
... due to a workplace designed around the Tower's operational processes / the ATCO's workflows
Increased ATCOs' work satisfaction
… due to the sum of all the above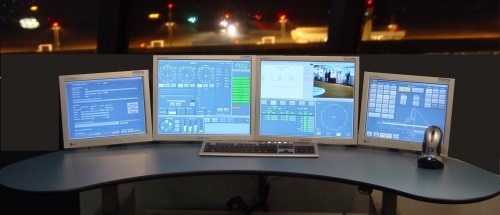 Applicable systems that can be integrated into an I-Tower solution include:
Airfield Lighting Control
MET Info Display
AWOS
NavAids Status Monitoring & Control
D-ATIS / VOLMET
Datalink Departure Clearance
Flight Data
Publications
Maps
CAT III Status Panel
Crash Alarm / Red-Telephone
AFTN Display
Direction Finder
GPS Time
Tower Cabin Task Lighting
Sun Shade Control
Video Surveillance
Entrance Control
Data logging of all system I/O
Electronic Flight Strips
Alarm Monitoring & Control
System Integration
Consoles
Radio Control Panels
Tower Cabin Interior